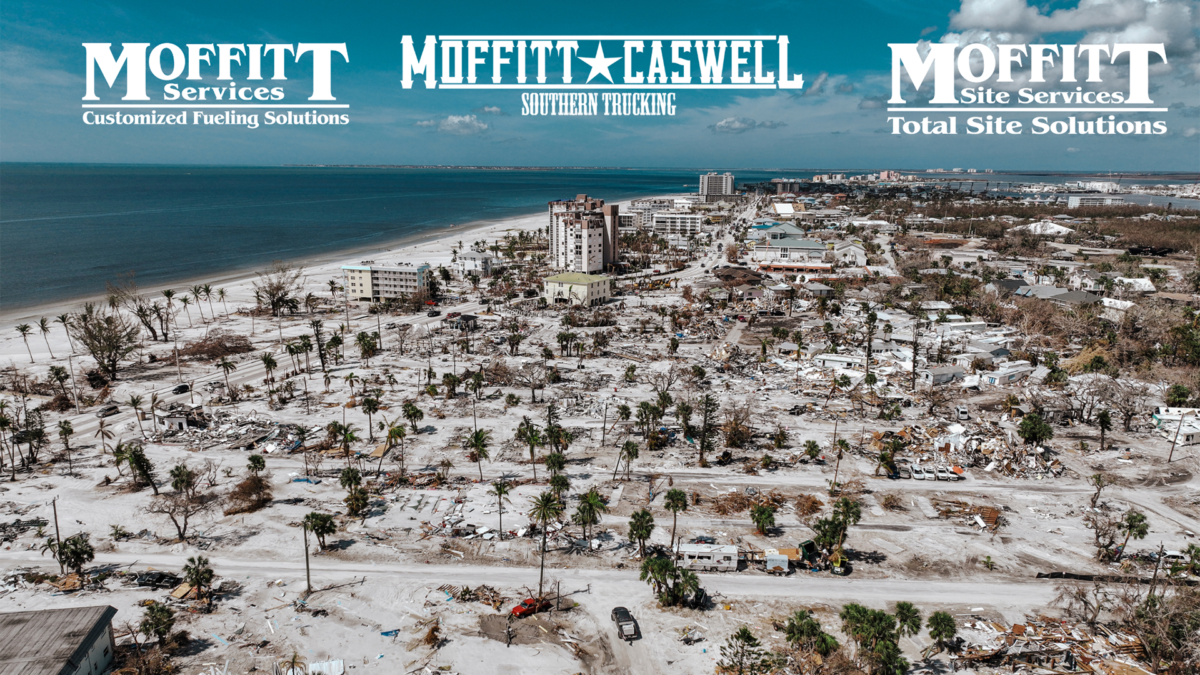 When disaster strikes, you need fast and reliable services you can count on. For over 75 years Moffitt Disaster Response Services has delivered fast and efficient relief to areas affected by hurricanes, floods, tornadoes, fires and other natural disasters. We've driven all over the country with our best-in-class equipment and specialized personnel to deliver help when it's needed most. We provide services like flood restoration, debris removal, clean water, portable restrooms and more. 
Preparing for disaster response
Rusty Moffitt, son of Roy Moffitt and co-owner of Moffitt Services, has been responding to storms for 22 years, starting in 2001 with tropical storm Allison in Houston. Since then he's responded to every named storm, regional flood event, freeze and fire. "We keep our eyes on the news to watch the weather, so we know about things in advance," says Rusty. Once the team is aware of an oncoming storm, the team begins the staging process. This process consists of procuring the right equipment and loading it onto trucks. 
By the time a storm makes landfall in a region, Moffitt trucks are waiting an hour outside of the area. "We stage our equipment based on the size of a storm and the region we're going to," says Rusty. "Last year we went to Tampa, Florida and rolled out with the largest mobilization in Moffitt history for a category 5 hurricane." The predicted landfall, population of the area and how commercialized the region is all contribute to the Moffitt fleet response size. 
Moffitt Caswell and Moffitt Services
Moffitt's disaster services cover 48 states. Depending on the size of a storm or disaster, Moffitt will send their own resources for larger events, and small events go through their brokerage services. Moffitt Caswell, owned and operated by Charlie Caswell and Rusty Moffitt, is responsible for the hauling of equipment to a location and unloading. "We assist Moffitt Services during the initial stage of mobilization by hauling off large equipment to the region affected by a disaster," says Charlie. "From there we find a Walmart parking lot or any large available space and begin to unload equipment from our trucks."
Rusty says working with Moffitt Caswell has been extremely helpful over the years, since most of Moffitt's projects include moving a lot of heavy equipment. "Having those additional assets under one name is helpful, because we don't have to deal with outside haulers who have rules and regulations." says Rusty. 
Expect the unexpected
Moffitt's disaster response team does everything they can to prepare for a storm or event. However, once they arrive, things become very unpredictable. Peyton Hughes, Operations Manager for Moffitt Disaster Response, says he had his first wake up call during Hurricane Laura in Louisiana. "We were in Iowa working a storm, and from there we were called out to Lake Charles," says Peyton. "I thought the Iowa storm was huge, but after that point, everything magnified and became a trial by fire." From there Peyton was thrown into the chaos, and learned that communication is one of the biggest keys during a crisis. 
Prior to the landfall of Hurricane Laura, while Peyton was still in Iowa, the Moffitt fleet had already been mobilized and was waiting outside the city. The command team usually drives a camper and finds a place to set up camp. Rusty and Charlie were camped out in Lafayette when they realized they were too close to the high winds for the camper to survive. The team made their way to Baton Rouge instead, and parked 150 miles from where the eye of the storm would make landfall. However, when they saw the storm making its way through Lake Charles, the team headed that direction. 
The learning curve
The storm had just passed through the area 2 to 3 hours before the Moffitt team drove in. "None of us had any idea what Lake Charles consisted of, and the impact it would make," Charlie said. "We were 15 miles outside of the city when we started seeing power lines down, box trailers flipped, glass shards from buildings and fire coming up from a chemical plant." They had just entered the scene when they got a phone call from one of the only local hospitals that was still open, asking for clean potable water. 
"There's a lot of different reasons why a hospital would be cut off from city water, whether it be a power outage, contamination or line breaks," says Rusty. Before the team could even set up their camper, they headed to the hospital. Within 24 hours Moffitt set up a water tank to support 100% of the hospital's water supply. "You don't even think about how much water a hospital uses until a moment like this," says Rusty. That hospital went through 300,000 gallons of water per day while Moffitt supplied it. Compared to an express hotel, which usually goes through between 4,000 to 6,000 gallons per day, this was a huge amount of water. "It was a learning curve for us," says Rusty.
Restoring communities one customer at a time
While the Moffitt Disaster Response team is out in a location, they do everything they can to restore communities. The Moffitt Caswell truck drivers not only unload equipment, but they are also trained to operate the equipment. The drivers take time to assist their customers and make sure everything is up and running. After that, the Moffitt Caswell team begins assisting with any other jobs or projects that need to be taken care of. This can look like anything from moving generators to drying off equipment and any other random requests. "Every storm is different," Charlie says, "so there's always a different need."
Not everyone at Moffitt Services gets to be a first responder, but they find ways to help from their home base in Houston. During Hurricane Ida in Louisiana, the team back home wanted to find a way to support. While the Emergency Response Team was out in the field, the Houston team got a dry van together to collect goods, inviting the local community to donate. The van was full of mops, cleaning supplies, toys, diapers and more. The team hauled the van to the Community Center in the affected area of Louisiana. "This was one of the first donations the area had received," Charlie says. "It was the first time we saw some of those people smile, and it brought a huge relief to them."
Fast. Reliable. Efficient.
Over the past 75 years, Moffitt Disaster Response has tailored their services to meet the needs of their customers. "We know how to find our customer's pain points and biggest problems while finding ways to fill those needs," Rusty says. The Moffitt Disaster Response team goes out of their way to meet needs that might not be their specialty, seeing it as an opportunity.  Not only that, the team has made themselves readily available with 24/7 emergency service. "A lot of businesses over complicate their services and only work certain hours," comments Rusty. "We'll do anything we can." 
At the end of the day, Moffitt consists of a team of comrades who work together to help the greater community. "When we're out in an area, we're all living together, eating together and working together," Peyton says. "You know everyone has your back, and regardless of job titles—we all jump in and help."